In 2017, FreeFall Aerospace, a new space startup and spin-off company from the University of Arizona began developing innovative antennas for satellite communications.
Led by CEO, Doug Stetson, previously of NASA JPL, and Chris Walker of the University of Arizona, their existing brand was not reflecting their expertise and the new antenna technology.
The leadership team was attending an upcoming conference and needed a professional brand identity and suitable marketing materials. 

Due to my extensive experience with branding and design, Tech Launch Arizona recommended my services to FreeFall.
I met with the CEO and we discussed the company and vision for the future. 
Immediately, I led market research, learned more about the space industry, and then began sketching creative concepts.
My initial sketch consisted of two capital F's that were angled to also mimic a signal or that of Wi-Fi.

After fine-tuning, I chose san-serif fonts that felt modern and were legible at small sizes like mission badges. I worked on a color palette that was clean, futuristic, and looked powerful on a dark background. 
Pictured you'll see both the final vertical and horizontal logos I designed in Adobe Illustrator.
From there, I worked on creating a custom folder with impactful one-sheets for potential customers at the trade conference.
The project was a success and FreeFall Aerospace hired me as a full-time creative and marketing expert. 
I have rolled out the brand in a variety of applications, in print, and digital formats.
Website Design
I built the FreeFall website using WordPress and custom plugins. The logo, color palette, and design elements remain consistent throughout the site. Overall, it is a place for potential customers to learn more about our innovative antennas for satellite communications.
Additional interactive elements include animations of the technology in use, videos, and a frequently updated news feed.
FreeFall's Identity in the Office, Apparel and Space!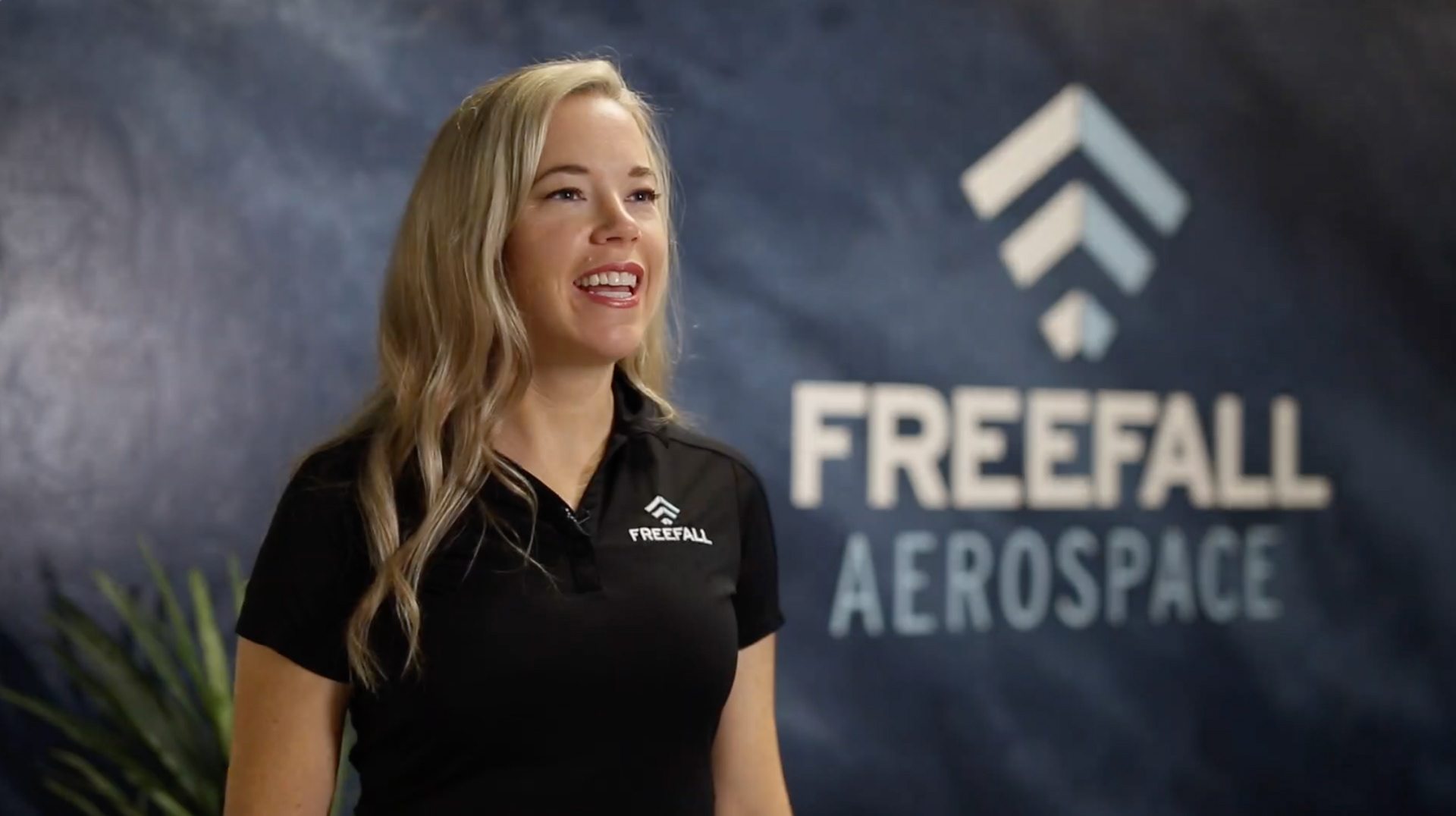 Interior and exterior FreeFall Aerospace Brand
Learn more about FreeFall Aerospace.